Welcome to KMC Dance!
KMC Studios is committed to teaching, encouraging and inspiring all of our students to become strong, confident dancers. Each student is important to us and we will work diligently to make sure they reach their full potential as dancers and individuals.  Our students learn in a supportive atmosphere that focuses on technique, teamwork, style and dedication. We believe in hard work, community involvement, ethical behavior and most of all having fun.
Come Dance with Us!
We've been in the business of training up dancers for over 50 years! With studio locations in Robbinsdale, Shorewood and Arlington, we offer ballet, tap, jazz, lyrical, contemporary, pointe, hip hop and much more! Robbinsdale offers acro classes, Mommy (daddy) and me, and there is even a daddy/daughter dance and a parent dance if you want to strut your stuff. Students can begin dance as early as age 3 and we even have classes for older students who did not take classes when they were younger.
The Latest News
For more information:
Robbinsdale:
Please call (763) 53-DANCE(32623)!!
Shorewood/Arlington:
Please call (952) 474-2110!!
Important Dates
Rehearsal - May 6th, 2017
Recitals - May 7th and 14th, 2017
Hall of Fame, Mar 23 - 26, 2017
Midwest Starz, Apr 20 - 23, 2017
Follow us on Social Media
Like us on Facebook or follow us on Instagram for all the latest up-to-the-minute information, pics and more!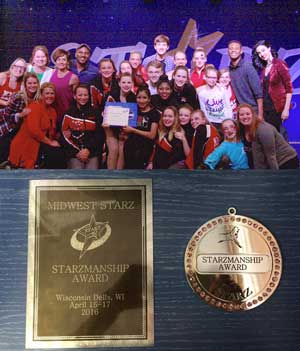 KMC Wins Starzmanship Award at Midwest Starz
At the April 17th Midwest Starz dance competition, our studio received the "Starzmanship Award." This award is given to the studio that displays ethical and good sportsmanship-like conduct, and a studio that goes above and beyond when interacting with other dancers and studios.
Describing our studio, they stated that we have a strong sense of community, good family values, and they appreciated how much our older students were helpful and supportive to our younger students. They noticed we were kind to other dancers backstage and in the dressing rooms.
This embodies the core values of KMC Dance and everything Kay Marie and Carol believe in and taught us. We could not be more proud of our teachers, parents and especially our STUDENTS!